Forbes Releases 15 Markets for Real Estate Investing in 2014 and Fort Myers / Cape Coral Areas Among the Top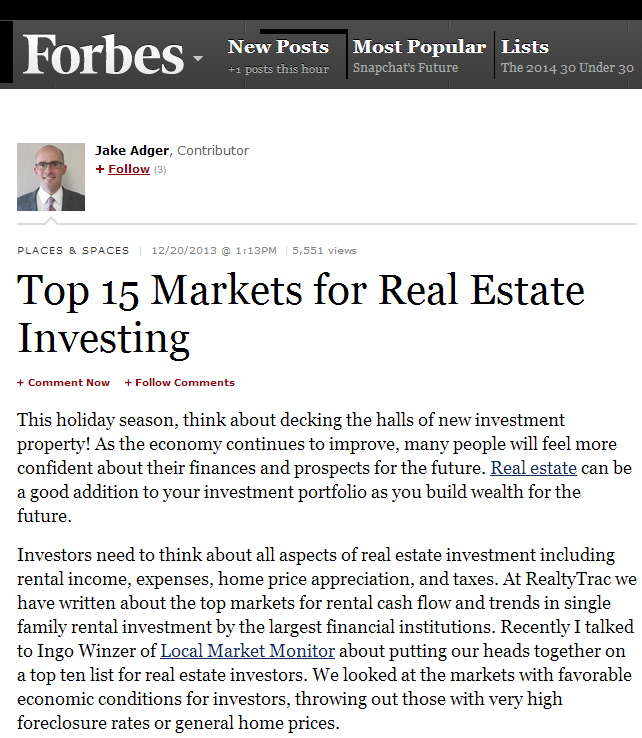 (end Forbes excerpt)
[Source: http://www.forbes.com/sites/jadger/2013/12/20/top-15-markets-for-real-estate-investing/]
"I will tell you how to become rich….Be fearful when others are greedy. Be greedy when others are fearful." – Warren Buffet
This holds true with the Lee County real estate market. After years of resident outcry to halt the utilities expansion project, the Cape Coral City Council is proceeding. With the housing implosion and dwindling economy, the area has experienced much change over the last 10 years. Highs and lows were the story for all of Southwest Florida, but never as true as it was in Cape Coral where speculation drove home prices up and when the bottom fell out, homes prices crashed –hard. Many investors are still hesitant to include the Cape in their portfolio – finding what seem to be more steady markets in Estero, Bonita Springs and of course, Naples nearby.
However, when everyone is running in one direction, look to the other direction for an opportunity. Fort Myers and Cape Coral present an opportunity like none other.
All these reasons are why Fort Myers and Cape Coral made Forbes' Top 15 Markets for Real Estate Investing list, published in December 2013. Jake Adger, a Contributor to Forbes.com teamed up with Local Market Monitor, who provides Banks & Credit Unions, Mortgage Investors and Personal Investors tools and data to make good business decisions. Their criteria was favorable economic conditions for investors, throwing out those with very high foreclosure rates or general home prices. Even though Cape Coral still maintains high foreclosure rates, their "calculations show that Atlanta, Cape Coral, and Tulsa are undervalued by more than 20% when compared to a calculated "Equilibrium" home price."

Buyer confidence is back in the Fort Myers and Cape Coral area, but not as much as all of Southwest Florida. Buyers have been watching for the bottom to fall out and it already has, right before their eyes and nobody can see it happening. Savvy buyers move on the first indication of positive change. In the Cape and in Fort Myers, inventory has decreased steadily and prices have increased steadily. We have seen the graph tick upwards on the sale prices of average home sales, but we feel we are in the beginning of this stage – the infancy. Where else can you achieve a gulf access home for the mid-$100s?
I'll leave you with one more Buffet quote, "Whether we're talking about socks or stocks, I like buying quality merchandise when it is marked down."