The Allure Of Luxury Kitchen Of Upscale Homes In Southwest Florida
Posted by Tim Ryan on Wednesday, February 5, 2014 at 12:40 AM
By Tim Ryan / February 5, 2014
Comment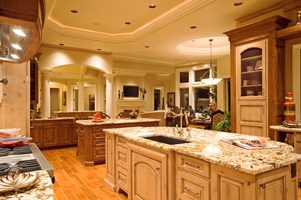 Southwest Florida is famous for its warm, tropical weather, lush preserves, lakes, and of course, the amazing beaches of the Gulf of Mexico. But aside from these factors, a lot of people are flocking in this region during vacations and buying homes because of the great residential communities and well-designed homes. Southwest Florida is home to some of the most luxurious and upscale properties in the country.
According to news, these luxury homes also have some of the most luxurious and stylish kitchens. One of the most expensive condo units listed in the market has a total living space of 6,900 square feet. It has a very large terrace covering a total of 4,000 square feet.
But the terrace is not the only feature that has been attracting clients. Very elegant, modern and has a luxury finish is what many homebuyers are opting for. It features well-furnished cabinetry, storage, and modern appliances. The whole design makes the kitchen looks perfectly sleek, neat, and uncluttered. Even the table at the dining area is very elegant and luxurious which is made of bronze and was imported from Belgium.
Other properties feature extreme but amazing kitchens with granite tile flooring, LED crystal lighting, modern cabinetry, and even a glittering chandelier. The materials used are not only chosen for their aesthetic value but for their functionality and durability.
When buying homes, kitchen is one of the main features that buyers really inspect and give importance to. These prestigious homes in Southwest Florida do not only boast spacious living space and amazing