Microhouses Are Small in Size, Big in Character
Posted by Tim Ryan on Thursday, May 16, 2013 at 7:30 AM
By Tim Ryan / May 16, 2013
Comment
These aren't exactly your typical homes.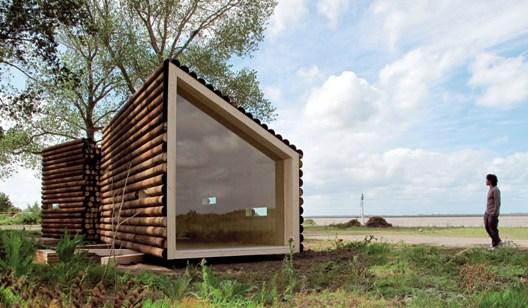 The popularity of the so-called "microhouse" is on the rise, partly because of the low, low price tag that comes with them, and partly because of the small impact they have on their location. They're often privately built, and few exceed the size of a typical New York City studio apartment. But they have warmth and charm that is rarely found in a more typically sized house.
The aptly-named "Alligator House" in New Orleans was designed by N.O. architect Will Crocker, and though the home stretches from the sidewalk back nearly 50 feet, it has just 13 feet of width. With the appearance of a large alligator with open jaws, this all-white creation is more unique than it is micro, but still fits the bill.
Not all of these homes are built by private designers and builders, however. A French architectural company by the name of OLGGA Architects created a tiny, unobtrusive log cabin that is small enough to comfortable load onto a pair of flatbeds and deliver to virtually any location. The home, dubbed "Flake House," is walled by dozens of unmilled logs, and contains a single large window that takes up the entire back end of the unit. Better yet, there is no foundation – it simply rests on wooden supports laid on the ground, and as such is totally portable and has little impact on its surroundings.
For the romantics, Toronto architect Michael Taylor's minimalist home located on Lake Simcoe in Ontario, Canada is right up your alley. This "Sunset House" has just one room with only the necessities: a bed, a bathroom, a wood-burning stove, and an outdoor shower. Surrounding the home is a thin screen of horizontal wooden slats that let in filtered light, and an innovative "green" roof that utilizes planted sedums and herbs to provide thermal mass to help keep the cabin cool.
But if pure creativity and uniqueness is what you're looking for, the obvious answer is the beehive-shaped "Coco Hut," located in the Netherlands and designed by Dutch designer Gurt Eussen. This tiny, round hut was created by recycling the ends of pine beams, a commonly-used building material in the Netherlands, and layers of aluminum. Its hoisted 4 feet off the ground by thick logs, and the shape of the structure is conducive to air circulation, keeping it cool.
So don't consider yourself limited by housing norms – there are still plenty of fun, unique, micro alternatives for those on a budget. 
Photo Source: http://www.motherearthnews.com/~/media/Images/MEN/Editorial/Blogs/Natural%20Health/8%20Great%20Micro-Houses/Micro78Flakehouse.jpg